(Mac interface - all installed on my PC)
Last week was crazy in trying to get games going. It seems that my pile of titles to play is only growing! I'm sitting on Transistor, Albert and Otto, Tales from the Borderlands, Assassin's Creed II, and even Hatoful Boyfriend to try and get some degree of done this month, and progress has been downright pitiful. Oh, well, I'm sure I'll figure at least part of it out. That being said, I've been having a great time with the games that I have been playing.
Shut Up and Take Australia
---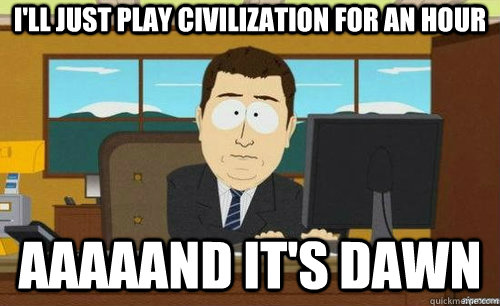 I recently started a new game of Civilization V with Curly. As usual, he's playing Japan, and I randomly drew and got Egypt. Last game, he was set up in central China and I was based in Japan, so our borders touched in hours. This time, we've gotten luckier and were set up in north Africa and Japan, respectively. At the moment, we're trying to bust some barbarian hordes before getting down to business. I have perimeters of most of the continents scouted around, save Australia (which I told him to "shut up and take already" since the barbarian problem was really bad anyways).
While Civ V takes up a whole lot of time, it's one of the best ways to spend it. On Steam Voice chat, it's a nice way to just talk with friends while playing a game that can go from laid-back to intense and deeply thought-out in just a few turns. There's a lot of evil plotting and cunning language to be thrown about, and I'm excited to discover...oops, forgot that Curly reads these things...
The Gaming Throne
---
This. This is why I haven't gotten anything done for the past few weeks. After constructing and moving some new furniture into my room, I discovered that I can easily turn my computer screen to the side to face perpendicular to my bed, on which I can prop pillows on the walls and curl up in a blanket to play anything controller-compatible. To be honest, that's been a huge consideration in my recent gaming choices, since I get sore wrists from long hours on a keyboard and enjoy using my 360 controller whenever I can.
Some titles that I intend to work on over the next few weeks are therefore ones that I can play like this, including Transistor, Cave Story, and Oxenfree (laptop-compatible!). This has so far been the most enjoyable for me, and I'm interested in looking at controller builds for other games I like, like Don't Starve and even Guild Wars 2 (fan-made).
Looking Into Next Week
---
To be honest, I think I'm going to focus on Oxenfree and Transistor next week. I'm super excited for both of them, and I love Transistor so far. Oxenfree looks great and I'm going to see if I can stream it without too much difficulty. Hopefully, I'll have some thoughts to post on both of those games as I get into both of them.
What are you guys playing now? Any titles you've just gotten that you're excited to open up?